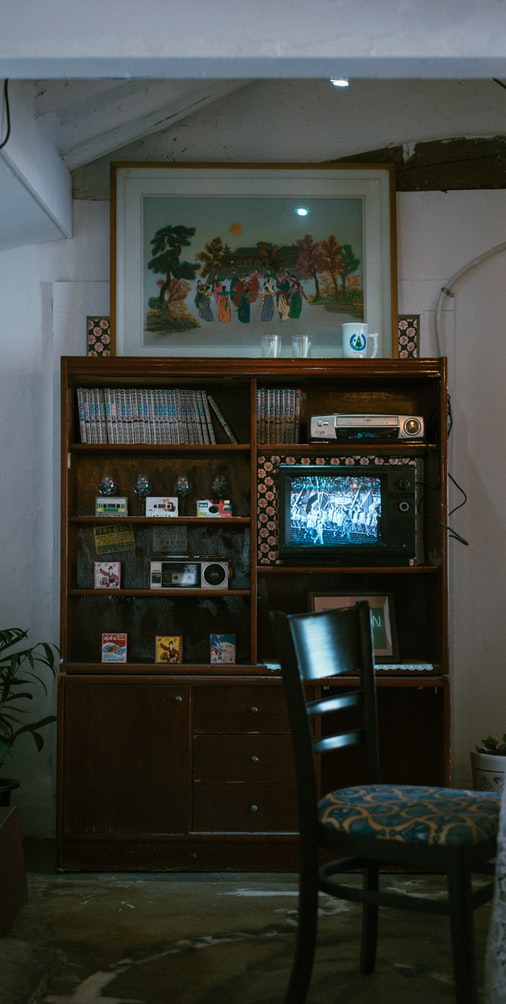 John Patrick Leary begins his keyword, Smart, with: "Smart, used as an adjective modifying a technology, connotes an efficient, clean, orderly pragmatism." and ends it with, "Besides offering a benign veneer for advanced forms of value extraction, smart technologies also facilitate what its users and designers were already doing by making something faster, cheaper, more deadly, or more profitable instead of transforming our sense of what is possible, or wise."
Many of this weblog's readers are mature, in age if not development. Thus, this post is a comment on a smart approach to information technology.
If one looks at a living room anno 1980, it was filled with clutter. In one corner there is a television, with a turntable along one wall, next to a cassette player, an amplifier/ receiver and speakers. The television didn't use any of this audio equipment, but duplicated efforts with its own inferior variants. If one wanted to use a telephone, there was a high probability that it was permanently fixed to a wall. Of course, there was also room for books, and photo albums. Sometimes, one could even find a map in a drawer.
Forty years later, and millennials are displaying a vastly different living room. It is not filled with books, vinyl records, cassettes, CDs and DVDs. There may be speakers discretely hidden away, and a large and flat screen visually dominating one wall of the room, but these can be used for multiple tasks.
Storage of books, videos, music and much more can be accomplished using a NAS (Network Attached Storage) server. Our first NAS was an Asustor AS1004T, which was an inexpensive unit designed for households. This has been updated to version 2. This server holds up to four 3.5″ HDDs, with up to 48 TB. Since these units need to function even after one or two disk failures, the real capacity would only be about 16 TB. It is 165 (H) x 164 (W) x 218 (D) mm, or about 6.5 x 6.5 x 8.6 inches. Loaded with 4 HDDs, the unit weighs about 5 kg/ 12 lbs. The electrical consumption is 12 W in hibernation, 25 W when operating. Noise is 19 dB in standby, 32 dB when operating. There are many other NAS units made by Asustor and competing brands, including Qnap, Synology and Zyxel.
Most people will not need a NAS of this size for their own purposes. Here are some metrics to help people estimate storage requirements. Novels are typically less than 1 MB in size, meaning 1 000 novels occupies 1 GB, and 1 000 000 (yes one million) fit into 1 TB. Non-fiction books may occupy several times that size, and some richly illustrated volumes are over 100 MB. Audio in MP3 format, occupies about 1 MB per minute. 1 GB will provide 16.7 hours of music, and 1 TB will provide almost 700 continuous days of music. Audio books can be compressed still further, and use much less space. Flac and other forms of lossless music, will use up to 40 times the space. A film on video typically occupies 2 GB of space, so 500 films can be held in 1 TB of file space. Photographs produced on a smart phone can occupy 4 MB of data, so 1 GB can will only hold 250 pictures. Fortunately, these pictures can be compressed to about 250 kB, which translates to 4 000 photos per GB, and 4 000 000 (yes, 4 million) photos per TB.
Older people, sorry I meant to say more mature people, need to keep up to date with technological innovations for as long as possible. If they don't they may quickly fall by the wayside. In Norway, everybody has a copy of their driving licence on their telephones. 25% of the population downloaded it during the first 24 hours it was available. They can also make payments using an app called Vipps, other countries may have equivalent technology packaged using a different name.
Phones or personal devices, as I prefer to refer to them, are also useful inside the house, to turn on and off lights and heating, to play music and videos using the living room screen and speakers, and to communicate with people – including friends, health personnel and thieves – arriving at the front door, to provide a calendar notifying upcoming events.
The main challenge with smart technology, is that people freely give large corporations access to their data, which can be sold onwards.
Activity
If you don't do something about it, your private life will become public knowledge. Make certain that you are comfortable with Amazon, Facebook, Google and others knowing everything about you. If not take steps to protect your privacy.
Nøkkelord 046 Intelligent
John Patrick Leary begynner nøkkelordet sitt, Smart = Intelligent, med: "Smart, brukt som adjektiv som endrer en teknologi, betyr en effektiv, ren og ryddig pragmatisme." og avslutter det med, "I tillegg til å tilby en godartet finér for avanserte former for verdiutvinning, letter smarte teknologier også det brukerne og designerne allerede gjorde ved å gjøre noe raskere, billigere, mer dødelig eller mer lønnsomt i stedet for å transformere vår følelse av hva er mulig, eller lurt. "
Mange av leserne til denne bloggen er modne, i alder om ikke utvikling. Dermed er dette innlegget en kommentar til en smart tilnærming til informasjonsteknologi.
Om man ser på en stue anno 1980, var den fylt med rot. I det ene hjørnet er det en TV, med en platespiller langs den ene veggen, ved siden av en kassettspiller, en forsterker / mottaker og høyttalere. Fjernsynet brukte ikke noe av dette lydutstyret, men dupliserte innsats med sine egne underordnede varianter. Hvis man ønsket å bruke en telefon, var det stor sannsynlighet for at den var permanent festet til en vegg. Selvfølgelig var det også plass til bøker, og fotoalbum. Noen ganger kan man til og med finne et kart i en skuff.
Førti år senere, og en ny årtusen, viser en veldig annerledes stue. Den er ikke fylt med bøker, vinylplater, kassetter, CDer og DVDer. Det kan være høyttalere som er diskret gjemt bort, og en stor og flatt skjerm som visuelt dominerer den ene veggen i rommet, men disse kan brukes til flere oppgaver.
Lagring av bøker, videoer, musikk og mye mer kan oppnås ved hjelp av en NAS (Network Attached Storage) server. Vår første NAS var en Asustor AS1004T, som var en billig enhet designet for husholdninger. Denne er oppdatert til versjon 2. Denne serveren har plass til inntil fire 3,5 "HDD-er, med opptil 48 TB. Siden disse enhetene trenger å fungere selv etter en eller to diskfeil, vil den virkelige kapasiteten bare være rundt 16 TB. Det er 165 (H) x 164 (W) x 218 (D) mm. Belastet med 4 HDD-er, veier enheten omtrent 5 kg. Det elektriske forbruket er 12 W i dvalemodus, 25 W når den er i bruk. Den støyer med 19 dB i ventemodus, 32 dB under drift. Det er mange andre NAS-enheter laget av Asustor og konkurrerende merker, inkludert Qnap, Synology og Zyxel.
De fleste vil ikke trenge en NAS av denne størrelsen til sine egne formål. Her er noen beregninger som hjelper folk med å estimere lagringskrav. Romaner er vanligvis mindre enn 1 MB i størrelse, noe som betyr at 1 000 romaner har 1 GB og 1 000 000 (ja en million bøker) opptar 1 TB. Faglitterære bøker kan oppta flere ganger så stor plass, og noen rikt illustrerte bind er over 100 MB. Lyd i MP3-format, har ca. 1 MB per minutt. 1 GB vil gi 16,7 timer med musikk, og 1 TB vil gi nesten 700 sammenhengende dager med musikk. Lydbøker kan komprimeres enda lenger, og bruker mye mindre plass. Flac og andre former for tapsfri musikk, vil bruke opptil 40 ganger plassen. En film på video tar vanligvis 2 GB plass, så 500 filmer kan holdes i 1 TB filplass. Fotografier produsert på en smarttelefon kan ta 4 MB data, så 1 GB kan bare inneholde 250 bilder. Heldigvis kan disse bildene komprimeres til omtrent 250 kB, som tilsvarer 4 000 bilder per GB, og 4 000 000 (ja, 4 millioner) bilder per TB.
Eldre mennesker, beklager – jeg mente å si mer modne mennesker, trenger å holde seg oppdatert med teknologiske nyvinninger så lenge som mulig. Hvis de ikke gjør det, kan de raskt falle av samfunnsutviklingen. I Norge har alle en kopi av førerkortet på telefonene sine. 25% av befolkningen lastet ned den i løpet av de første 24 timene den var tilgjengelig. De kan også foreta betalinger ved hjelp av en app som heter Vipps. Andre land kan ha tilsvarende teknologi pakket med et annet navn.
Telefoner eller personlige enheter, som jeg foretrekker å referere til dem, er også nyttige inne i huset, for å slå av og på lys og varme, for å spille musikk og videoer ved å bruke skjermen og høyttalerne i stuen og til å kommunisere med mennesker – inkludert venner, helsepersonell og tyver – som ankommer inngangsdøren. Enheten også inneholder en kalender som melder om kommende hendelser.
Hovedutfordringen med smart teknologi er at folk fritt gir store selskaper tilgang til dataene sine, som kan selges videre.
Aktivitet
Hvis du ikke gjør noe med det, vil privatlivet ditt bli offentlig kunnskap. Forsikre deg om at du er komfortabel med at Amazon, Facebook, Google og andre vet alt om deg. Hvis ikke ta skritt for å beskytte ditt privatliv.