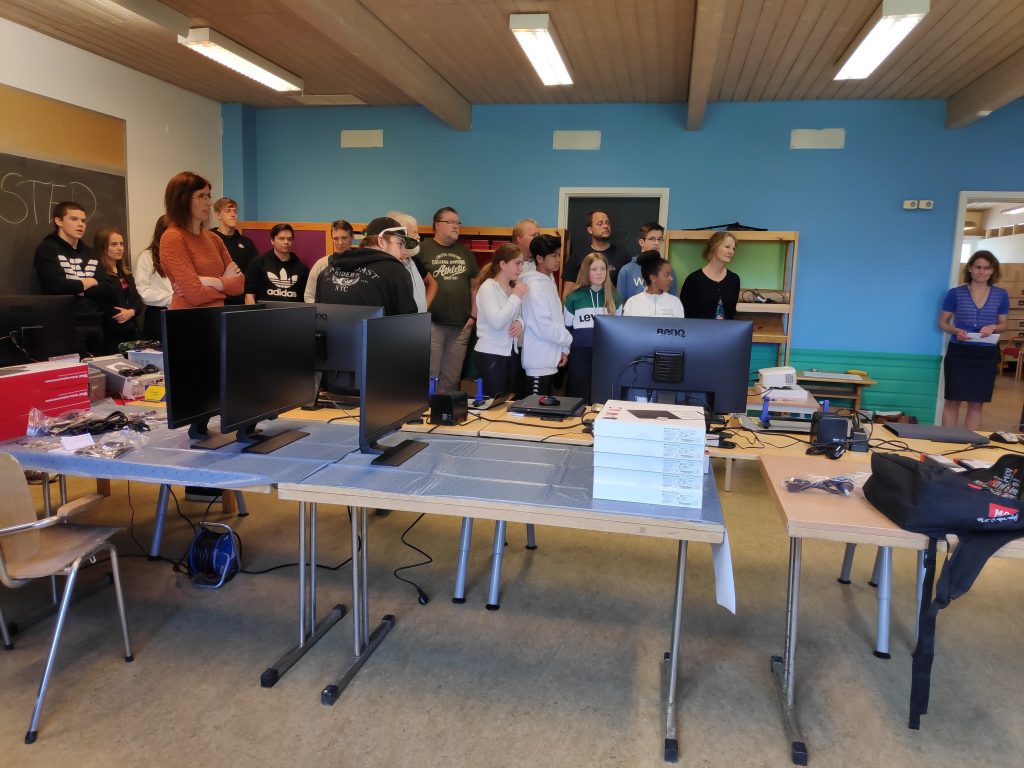 With a length of 6-3/4 printed pages, Entrepreneur/ Entrepreneurship is the longest keyword in John Patrick Leary's book, Keywords. "Entrpreneur combines the pixie dust of innovation, the social conscience of the stakeholder, the versatile vagueness of nimble, and, with its French derivation, a touch of the glamour, that 'businessman', 'capitalist' or 'manager' can never approach."
Within it, Leary name drops theorists such as Karl Marx (1818 – 1883), Max Weber (1864 – 1920), Joseph Schumpeter (1883 – 1950), Paul Sweezy (1910 – 2004) and Edward Palmer Thompson (1924 – 1993). To this mix are added Henry Ford (1863 – 1947) and Richard Branson (1950 – ) in addition to other minor characters.
In this keyword, are some reflections on efforts to support local entrepreneurship at Straumen in Inderøy, Norway, the municipality where the author lives. Two days ago, the local engineering/ techno-workshop opened.
This workshop is for all of Inderøy's residents. But there are several groups of people who could benefit more from it than others, including:
Secondary school / high school students
Older youth who are neither working nor attending school
People who want to learn non-traditional techniques
Work disability / pensioners who want meaningful activities and social interaction
Artists wishing to expand their repertoire, including making small series of their works of art
The first suggestions for the workshop referred to it as an engineering garage, because garage is related to up to several businesses that began in a garage, including Harley-Davidson (1903), Walt Disney (1923), Hewlett Packard (1939), Mattel (1948), Microsoft (1975) , Apple (1976), Amazon (1995) and Google (1998). One main idea is that the workshop would act as a technological incubator for businesses in Inderøy.
It was a difficult choice, but the vision of a technical workshop that is expressed here has a focus on drawing and mechatronics. The initial investment was about NOK 250 000, in a space of 70 square meters. If one had twice as much money and twice as many square meters of space could also work with other technological areas, including wood and metalwork, textiles or food. I hope these can be started as focus areas three, four and five, eventually.
Localization
The starting point for the program is one classroom at Spiren, a converted elementary school, for finer activities. Ideally, in addition, another room, where larger, noisier, dirtier and partially more dangerous tools and machines could be locked, stored and used under supervision, including laser cutters and CNC mills, should be ideal. Video (and audio) soundproof studio and group room is also desirable.
Machine Operator Card
Participants must be trained in the use of tools / equipment / machines. Afterwards, they should be assigned "machine operator cards" for each machine type. Training is an essential part of the workshop process. However, it can be difficult for the guards / teachers to know who has the skills to use different machines. Everything should be recorded in a database. But due to any lack of access to the database, it should be a requirement that people with documented skills bring their machine operator card so that no doubt arises.When it comes to student companies and Young Entrepreneurship, students should gain experience with the construction of prototypes and small series. But it is not just production processes that need to be learned. It also means that one must be given the opportunity to market and sell their small series of products, preferably with a small (but limited) profit.
The workshop must be responsible for purchasing, storage and further sale of components used in production. It can be very difficult to obtain components! Many current suppliers do not want to sell to private, so one must have a process so that most people can obtain the components they need.
Another challenge is the use of services, and sending half-finished products possibly drawings to get something processed or product manufacturing. As an example, there are printed circuit boards (PCBs). It can be good to make one or two, but if you are going to make a series that exceeds, say 50, then these must be produced by others.Production processes must be documented in writing and in video. It is very important to be able to show production procedures. This avoids re-inventing the wheel. In addition, the documents provide a good starting point for improving processes.
The worst thing about a workshop is taking responsibility for the boring tasks like cleaning up, washing and maintenance. No one likes to do that, but it is part of the workshop process. This must come out clearly.
Computer
The engineering workshop contains six (6) workstations, where students and other participants can work, as well as a 7th workstation that can be used by the teacher, possibly others. To make sure there is sufficient equipment for places, there is an 8 unit, where the last one is kept in readiness.
The 8 Beebox machines have a Celeron processor, 8 GB RAM and 128 GB m.2. SATA SSD. These machines are mounted on the back of a Benq 27" LCD screen with VESA bracket. It uses the following software:
Linux Ubuntu operating system, latest version with Long-term support
Cinnamon user interface
Firefox browser
LibreOffice office program
VLC media player
Krita raster & vector graphics program
Scribus desktop page setting program
FreeCAD technical drawing program
Kicad electrotechnical program
Python programming language
To be installed:
DaVinci Resolve video editing program with Fairlight for audio editing
Computer input equipment consists of keyboard, mouse and Wacom Bamboo drawing blocks.
Output equipment consists of a Canon color laser printer with scanner; 6 Creality Ender 3-Pro 3D Printers; 1 Voltera V-One circuit board printer.
In addition, the workshop has a Qnap NASbook server, which provides a common storage space for all participants. This is to prevent participants from relying on access to a particular machine.
Activity
Investigate what is available locally in terms of creative production. This should not be restricted to electronics or mechanics but span the entire creative specter. Textiles, ceramics and food are other areas of importance.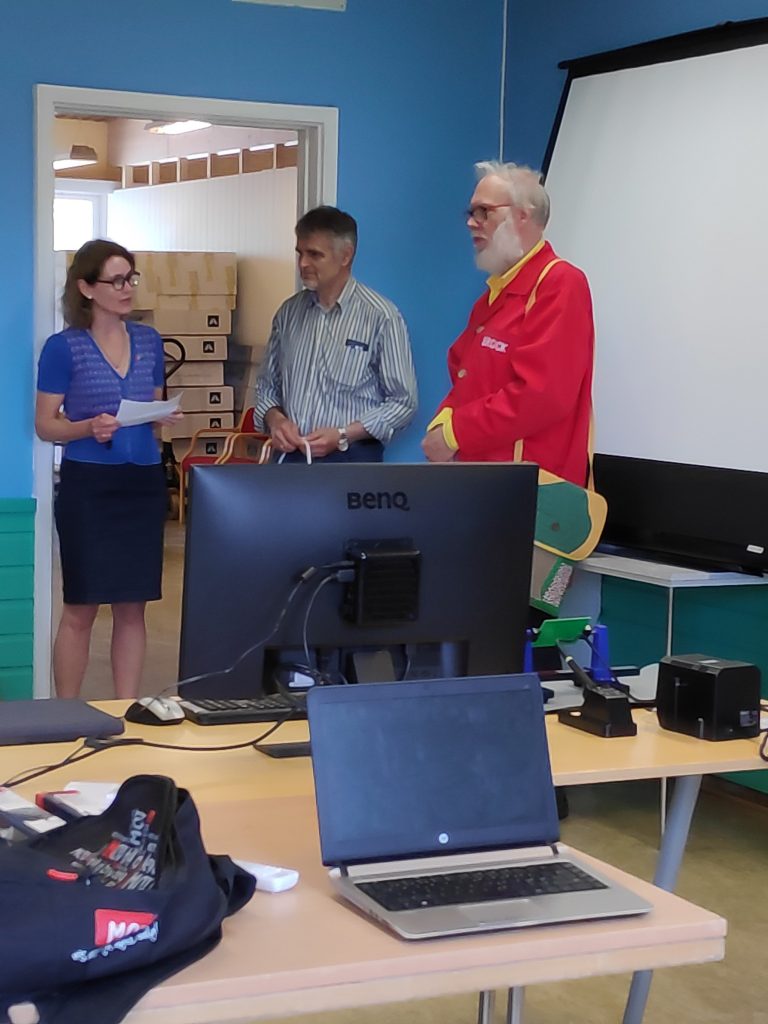 Nøkkelord 022 Entreprenørskap
Med en lengde på 6-3 / 4 utskrevne sider er Entrepreneur/ Entrepreneurship det lengste nøkkelord i John Patrick Learys bok. "Entrpreneur kombinerer det magiske støv av innovasjon, interessentens sosiale samvittighet, den mangesidige uklarhet av smidige, og med sin franske avledning, et snev av glamouren, kan "forretningsmannen", "kapitalisten" eller "lederen" aldri nærme seg .
Leary nevner teoretikere som Karl Marx (1818 – 1883), Max Weber (1864 – 1920), Joseph Schumpeter (1883-1950), Paul Sweezy (1910 – 2004) og Edward Palmer Thompson (1924 – 1993). Til denne blandingen omtales Henry Ford (1863 – 1947) og Richard Branson (1950 -) i tillegg til andre mindre figurer.
I dette søkeordet er noen refleksjoner om innsatsen for å støtte lokal entreprenørskap på Straumen i Inderøy, den kommunen hvor forfatteren bor. For to dager siden åpnet den lokale tekno-verksted.
Verkstedet er for alle Inderøys beboere. Men det er flere grupper av mennesker som kan dra større nytte av det enn andre, blant annet:
Ungdomsskole/ videregående skole elever
Eldre ungdommer uten arbeid eller skoleplass
Folk som ønsker å lære utradisjonelle teknikker
Arbeidsuføre/ pensjonister som ønsker seg meningsfylte aktiviteter og sosialt samkvem
Kunstnere som ønsker å utvide sitt repertoar, herunder lage småserier av sine kunstverk
De første tanker om en teknoverksted, benyttet man begreppet teknogarasje, fordi garasje er relatert til inntil flere bedrifter som begynte i en garasje, herunder Harley-Davidson (1903), Walt Disney (1923), Hewlett Packard (1939), Mattel (1948), Microsoft (1975), Apple (1976), Amazon (1995) og Google (1998). En hoved ide er at verkstedet skal være en teknologisk inkubator for bedrifter på Inderøy.
Det var et vanskelig valg, men den visjonen av et teknoverksted som kommer til uttrykk her, har en fokus på tegning og mekatronikk. Om man hadde dobbelt så mange penger, og dobbelt så mange kvadratmeter kunne man også jobbe med andre teknologiske områder, herunder tre og metallarbeid, tekstiler eller mat. Jeg håper at disse kan bli satt i gang som fokusområder tre, fire og fem, etter hvert.
Lokalisering
Utgangspunkt for opplegget er ett klasserom på Spiren for finere aktiviteter. Ideelt bør det være i tillegg, et annet rom, der større, mer bråkete, mer skitten og delvis farligere redskaper og maskiner kunne låses inn, oppbevares og brukes under tilsyn, herunder laserskjærer og CNC mill, med mere. Video (og audio) lydtett studio og grupperom er også ønskelig.
Maskinoperatørkort
Her er en del momenter som jeg synes er viktig når det gjelder arbeid på et makerverksted.
Deltakere må få opplæring i bruk av verktøy/ utstyr/ maskiner. Etterpå bør de få tildelt «maskinoperatørkort» for hver maskintype. Opplæring er en vesentlig del av verkstedsprosessen. Men, det kan være vanskelig for vaktene/ lærerne å vite hvem som har kompetanse til å bruke ulike maskiner. Alt bør registreres i en database. Men på grunn av eventuell manglende tilgang til databasen, bør det være et krav at folk med dokumentert ferdigheter ta med seg sin maskinoperatørkort, slik at det ikke oppstår tvil.
Når det gjelder elevbedrifter og Ungt Entreprenørskap, bør elever få erfaring med bygging av prototyper og småserier. Men det er ikke bare produksjonsprosesser som må læres. Den også innebærer at man må få anledning til å markedsføre og selge sine småserie produkter, gjerne med en liten (men begrenset) fortjeneste.
Verkstedet må stå for innkjøp, lagring og videre salg av komponenter som brukes i produksjon. Det kan være svært vanskelig å få tak i komponenter! Mange aktuelle leverandører vil ikke selge til private, slik at man må ha en prosess slik at folk flest kan få tak i de komponentene de trenger.
En annen utfordring, er bruk av tjenester, og å sende halvferdige produkter evt. tegninger til å få et eller annet behandlet eller produktfremstilling. Som et eksempel kan nevnes kretskort. Det kan være greit å lage en eller to, men om man skal lage en serier som overskridder ca. 50 dingser, så må disse fremstilles av andre.
Dokumentasjon av produksjonsprosesser skriftlig og i video. Det er svært viktig å kunne dokumentere hvordan man går frem til å lage ting. Dermed unngår man å oppfinne hjulet en gang til. I tillegg gir dokumentene et godt utgangspunkt til å forbedre prosesser.
Det verste med et verksted, er å ta ansvar for de kjedelige oppgaver som opprydding, vasking og vedlikehold. Ingen liker å gjøre det, men det er en del av verksteds-prosessen. Dette må komme tydelig frem.
Datasystem
Teknoverkstedet inneholder seks (6) arbeidsstasjoner, der elever og andre deltakere kan jobbe, samt en 7. arbeidsstasjon som kan benyttes av læreren, eventuelt andre. For å sørge for at det er tilstrekkelig utstyr til steder, er det en 8 enhet, der den siste holdes i beredskap.
De 8 Beebox maskiner, har en Celeron prosessor, 8 GB RAM og 128 GB m.2. SATA SSD. Disse maskiner monteres på baksiden av Benq 27" LCD skjerm med VESA brakett. Følgende software foreslås benyttet:
Linux Ubuntu operativsystem, siste versjon med Langtids-støtte
Cinnamon brukergrensesnitt
Firefox nettleser
LibreOffice kontorprogram
VLC media-avspiller
Krita raster og vektorgrafikkprogram
Scribus skrivebords sidesettingprogram
FreeCAD teknisktegneprogram
Kicad elektrotegneprogram
Python programmeringsspråk
I fremtiden: DaVinci Resolve videoredigeringsprogram med Fairlight til audioredigering
Inngangsutstyr for datamaskiner består av tastatur, mus og Wacom Bamboo tegneblokker.
Utgangsutstyr består av en Canon farge laser-skriver med skanner; 6 Creality Ender 3-Pro 3D-skrivere; 1 Voltera V-One kretskortskriver.
I tillegg har rommet en Qnap NASbook server, som skal være felles lagringsplass for alle deltakere. Dette for å unngå at deltakere blir avhengig av å sitte ved en bestemt maskin.
Tegning som komunikasjonsmiddel
En av de første ferdigheter man bør tilegne seg er å tegne for å kommunisere. Jeg har tidligere brukt boka, Rapid Viz: A New Method for the Rapid Visualization of Ideas 3rd Edition av Kurt Hanks og Larry Belliston. Det er tilgjengelig som e-bok.
Teknisk-tegning
Både FreeCAD teknisktegneprogram og Kicad elektrotegneprogram blir benyttet til å fremstille ulike ulike deler og prosesser på verkstedet.
Arduino, Micro:bit og Raspberry Pi
Mens Arduino har vært et viktig redskap til å hjelpe elever lære om mikroprosessorer, så er den Arduino Uno ti år gammel, og har utspilt sin rolle. Nå har andre mikroprosessorer kommet på markedet som er bedre egnet til å gi elever en forståelse av fagfeltet.
Micro:bit er bedre egnet til å gi grunnleggende opplæring de kommende fem til ti år. Den består av et innebygd (embedded) system. Utstyret blir gitt bort gratis til alle 7. klassinger i Storbritannia, og til alle barneskoler i Norge. Det 40 x 50 mm store systemet har en ARM Cortex-M0 mikroprosessor, akselerometer og magnetometer sensorer, kan kommunisere via blåtann og USB, har en skjerm bestående av 5×5 (25) lysdioder, to programmerbare knapper, og kan få strøm via micro-USB eller ekstern batteripakke. Det er trolig ikke behov til å bruke teknoverkstedet til å jobbe med Micro:bit. En vanlig klasserom er tilstrekkelig, og det på barneskoler.
Raspberry Pi (heretter RPi) er en datamaskin bygget på et enkelt kretskort på størrelse med et bankkort. Den er utviklet av det britiske selskapet RPi Foundation med tanke på å oppmuntre til å lære grunnleggende informatikk i skolen. Det er dette som er mest interessant for ungdomsskole elever, og voksne. Det finnes flere typer av RPi, der det mest vanlig i dag er RPi B3+ og RPi Zero/ W. I April 2014 ble den RPi Compute Module lansert. Den bruker en 200-pin DDR2 SO-DIMM- konfiguert minnemodul og har forbrukerelektronikk og innebygd system som bruksområde. Dermed er det investert i RPi CM3+ development kits, og Compute Module 3+ kort (CM3+/Lite, CM3+/8GB, CM3+/16GB and CM3+/32GB).
Dokumentasjon
Prosjektarbeid krever disiplin. Men disiplin må også læres og innarbeides. Her, er en logg et nyttig hjelpemiddel. Hver gang en deltaker kommer inn til verkstedet, må vedkommende ta frem loggen sin og fører inn saker.
Aktivitet
Undersøk hva som er tilgjengelig lokalt når det gjelder kreativ produksjon. Dette bør ikke begrenses til elektronikk eller mekanikk, men spenner over hele det kreative spekteret. Tekstiler, keramikk og mat er andre områder av betydning.